Women must be decently dressed, especially when they go to church. The parish priest may, with due prudence, refuse them entrance to the church and access to the reception of the Sacraments, [each] and every time that they come to church immodestly dressed." (General Pastoral Directive, 1915 A.D.)
Although immodesty in dress was not unheard of from the lips of the Popes, it was around the time of Pope Pius XI that a Dress Code of sorts came about.
---
Pope Benedict XV (1914-1922) spoke of the deplorable immodesty in society, in his Encyclical to the Third Order St. Francis, "SACRA PROPEDIEM", and encouraged especially the Tertiary Sisters, "by their dress and manner of wearing it, to be models of holy modesty for other ladies and young girls; that they be thoroughly convinced that the best way for them to be of use to the Church and to Society is to labor for the improvement of morals."
He goes on to say, about society:
"..one cannot sufficiently deplore the blindness of so many women of every age and condition; made foolish by desire to please, they do not see to what a degree the in decency of their clothing shocks every honest man, and offends God. Most of them would formerly have blushed for those toilettes as for a grave fault against Christian modesty; now it does not suffice for them to exhibit them on the public thoroughfares; they do not fear to cross the threshold of the churches, to assist at the Holy sacrifice of the Mass, and even to bear the seducing food of shameful passions to the Eucharistic Table where one receives the heavenly Author of purity. And We speak not of those exotic and barbarous dances recently imported into fashionable circles, one more shocking than the other; one cannot imagine anything more suitable for banishing all the remains of modesty.
In considering attentively this state of things, the Tertiaries will understand what it is that our epoch expects from the disciples of St. Francis. If they bring their gaze back to the life of their Father, they will see what perfect and living resemblance to Jesus Christ, above all in His flight from satisfactions and his love of trials in this life, had he whom they call the Poverello, and who had received in his flesh the stigmata of the Crucified. It is for them to show that they remain worthy of him by embracing poverty, at least in spirit, in renouncing themselves, and in bearing each one his cross.
In what concerns specially the Tertiary Sisters, We ask of them by their dress and manner of wearing it, to be models of holy modesty for other ladies and young girls; that they be thoroughly convinced that the best way for them to be of use to the Church and to Society is to labor for the improvement of morals."
In "Remarks on the woman's mission in society" to a delegation of the Union of Catholic Women, October 21, 1919, Pope Benedict XV said, "We must hasten, however, to We congratulate the resolution we just made, you will ensure that Catholic women feel obliged to not only be honest, but to prove his honesty by way of dressing. Such resolution recalls the need for the Catholic woman to set a good example.
Ignorance alone can explain the deplorable extension taken today by a fashion so contrary to modesty, the most beautiful ornament of the Christian woman; better informed, it seems to us that a woman could never have come to this excess wear indecent dressing into the holy place, under the gaze of natural masters and the most authoritative of Christian morality." 
Pope Benedict XV, "  Remarks on the woman's mission in society" to a delegation of the Union of Catholic Women, October 21, 1919, inProceedings of Benedict XV,Volume II, House of the Good Press, Paris, 1926 p. 69-70
---
Pope Pius XI had decried the Immodesty of women and called for those who dressed immodestly TO BE DE-BARRED FROM HOLY COMMUNION:
"Maidens and women dressed immodestly are to be debarred from Holy Communion and from acting as sponsors at the Sacraments of Baptism and Confirmation; further, if the offense be extreme, they may even be forbidden to enter the church."
(Original letter published in Acta Apostolicae Sedis of 1930 vol. 22, pp. 26-28)
He spoke again of the importance of modesty in sports, in his encyclical, "Divini Illius Magistri" DECEMBER 31, 1929.
In 1930 a letter of the Sacred Congregation of the Council (Acta Apostolicae Sedis 1930 vol. 22, pp. 26-28) was issued. This was addressed to the whole world. It condemned emphatically "the immodest fashion of dress adopted by Catholic women and girls, which fashion not only offends the dignity of women, but conduces to the temporal ruin of the women and girls, and, what is still worse, to their eternal ruin, miserably dragging down others in their fall."
These instructions were given (among others):
1. "The parish priest should command that feminine garb be based on modesty, and womanly ornament be a defence of virtue. Let them likewise admonish parents to cause their daughters to cease wearing indecorous dress."
2. "Teachers must not receive in their colleges and schools immodestly dressed girls."
3. "Maidens and women dressed immodestly are to be debarred from Holy Communion … further, if the offence be extreme, they may even be forbidden to enter the Church."
(I X . Puellae et mulieres, quae inhonestas vestes induunt, a Sancta Communione
et a munere matrinae in sacramentis Baptismi et Confirmationis
arceantur, atque, si casus ferat, ab ipso ecclesiae ingressu prohibeantur.)
In another Encyclical he wrote:
"It is abundantly clear that readers of Augustine will not be caught in the toils of that pernicious error, which was widespread during the eighteenth century, namely, that the inborn impulses of the will should neither be feared nor curbed, since all of them are right and sound. From its false principle sprang those educational methods, which We condemned not long ago in Our Encyclical on "The Christian Education of Youth." Their effect is to allow a free mingling of the sexes and to employ no precaution in controlling the growing passions of boyhood and youth. From this false principle too comes that license in writing and reading, in presenting or frequenting plays, that do not merely threaten innocence and purity with dangerous occasions, but actually plot their ruin and destruction. From this source again are derived those immodest fashions of dress, which Christian women can never be at too great pains to abolish."
"Ad Salutem", April 30, 1930 A.D.
The Pope's weren't the only ones who spoke out about the dangers of immodesty and indecent attire. In 1925 the Bishops of Belgium issued a serious call concerning indecent fashions, quoting, "People who are not well dressed are asked not to approach the communion rail."
(The Catholic Tunisia , October 11, 1925, p. 750 -752)
An article in Le Figaro, published on December 20, 1920 by His Eminence Cardinal Louis-Ernest Dubois spoke of a letter that "was read from the pulpit in every church in the diocese, the following warning of the new archbishop of Paris, 'against indecent modes and unseemly dances.'" quoting, "We urge our diocesan react against the opposing modes to Christian decency."
Le Figaro , 66 th year, 3 E Series, No. 354, Monday, December 20, 1920, p. 2 .
Continues letters and calls to decent Fashions streamed from chanceries and pulpits during these years (1920s-1940s), as it was becoming the "mode" to throw off old ways and do whatever was scandalous (for those days).
One must understand that the fashions of the 1920's were not of such terrible immodesty as was the intent of scandal that was behind it. The lifestyle of the "Flapper Girl" that was behind much of the new crazes pushed for a "freer" lifestyle. One that, without the Church reminding Catholic's of their duties, would easily cause many souls of forget all Modesty in dress, speech, and so on.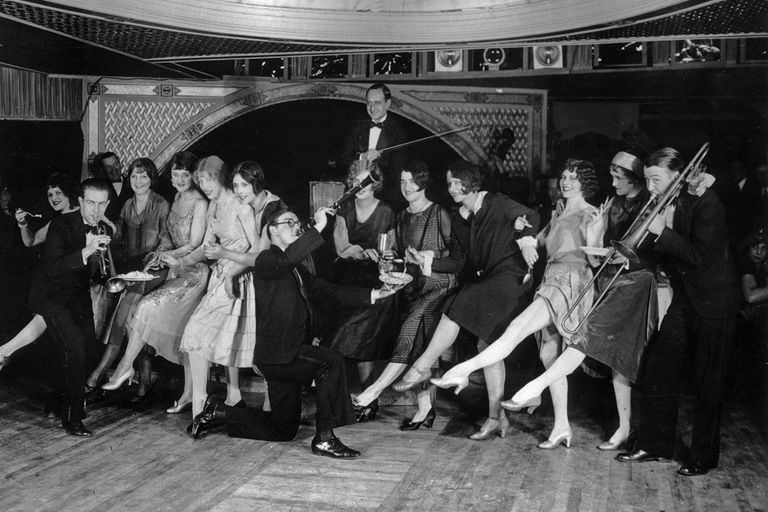 The new dances may not be of such concern today, but when they first came out in the 20's, it was to be as much of a scandal as possible. Shaking parts of their bodies that were so un-exposed before. Hiking up their skirts to expose their knees – a "scandalous" deed back then. Smoking and drinking excessively, sleeping around freely, flirting with every person that came their way. Moving pictures gave the public more  freedom concerning dirty movies. All of these immodesties called for the Church to openly speak about the dangers of such acts. For who knew where and when it would stop?
---
Cardinal-Vicar of Pope Pius XI, Cardinal Pompilj, on 24 September 1928 issued Guidelines to help Catholic women with regard to Fashion – and what they could consider to be Modest and proper for Mass (and so on).
 "A dress cannot be called decent which is cut deeper than two fingers' breadth under the pit of the throat, which does not cover the arms at least to the elbows, and scarcely reaches beyond the knees. Furthermore, dresses of transparent materials are improper."
There has been a concession with regard to sleeve length, because of market conditions.
The official Catholic Hierarchy website states that Cardinal Pompilj served as Vicar General in the diocese of Rome from 7 Apr 1913 to 5 May 1931.
Brother Raymond-Marie Rouleau, Archbishop of Quebec,
wrote
in 1930: (
loosely translated from French)
"In order to determine precisely what is to be considered what is appropriate, 
(or) improper attire to be worn by the person assisting at Mass…
We take the following rule to the letter of His Eminence Cardinal Vicar [ Basilio Pompilj ] addressed on 24 September 1928 to all higher schools of sponsorships and girls in the city of Rome..
We hope that all the girls and women of our diocese will be a duty to comply with these provisions and to set an example of Christian modesty with the submission to the will of the Vicar of Jesus Christ.
It goes without saying that sanctions brought by the Sacred Congregation must be applied with equal prudence and firmness , to stop immediately and as effectively as possible the scourge of immodesty."
Circular clergy" , Part No. I, April 6, 1930, published in Mandements, pastoral letters and circulars of the bishops of Quebec , Supplement No. 33, p. 15 , New Series, Volume 9, Quebec, in 1925.
Rufino J. Cardinal Santos, Archbishop of Manila, quotes these guidelines as "The Church's stand concerning modesty in dress" in his Pastoral of December 6, 1959. He was known for launching many religious crusades, including the Purity Crusade for Mary Immaculate.
The Bishops in Quebec, Canada also wrote a lengthy Joint Pastoral Letter titled, "Purity Crusade", concerning the grave importance of Modesty in Dress, published May 5th 1946. Earlier they had quoted,
"Synod of Quebec (1940), Decree 102, notes: "What if we ask what is a modest and decent attire ( minimum ) for a Christian, as we understand it's one that covers the chest and the arms of non-transparent fabric, which goes down at least mid-leg, and whose cup a suitable extent protects modesty hiding body lines " (Cardinal Rouleau,  December 8, 1930 ,  Mandements of Bishops of Quebec , . vol XIII, Supplement 45) [made in: 36].
---